Helping Our Veterans
9-1-1 Veterans is a small non-profit organization dedicated to assisting Long Island's veterans.
We provide emergency financial assistance to those who have served in - or are still serving in - the finest military in the world.
Our current emphasis has not only been on those service men and women who participated in the global war on terrorism, but all military veterans from all eras.
The transition period from military to civilian is a critical time psychologically and financially. Some are going through the lengthy process of applying for a service-connected disability or have fallen on hard times and have no other means of support.
9-1-1 Veterans supports the concept of communities taking ownership of "their veterans" by providing any needed support. We have no paid employees which has, to date, allowed us to give nearly 100% of donated funds to this worthy cause.




Attention Golfers:
We regret that we are announcing the cancellation of the 9-1-1 Veterans Golf Outing scheduled for Monday, August 6, 2018. Anyone that has already registered or made payment for golfers or for the dinner only package can expect a refund in the coming days.
The golf outing was cancelled due to the fact the golf course had a change in management and could not honor our previous agreed price point and amenities provided in the contract. This fact, led us to make the difficult decision to cancel the golf outing. Rather than take away the full breakfast, and diminish the prizes and giveaways, we thought it would be more professional and much more financially prudent to cancel this years outing and regroup with a stronger and more improved outing next year!
We apologize in advance for any inconvenience this may have caused and we only hope that you and/or your company as a corporate sponsor, will join us again next year at our next outing where we will continue to raise funds for this very important cause with regard to helping Veterans in their time of need.
Should anyone have any questions, comments or concerns, please feel free to contact us immediately. Thank you again for your time and continued support.
Kenn Ripp-Treasurer
Golfouting@911veterans.com
What We Do
We have assisted our current and former returning Veterans of all eras with emergency financial assistance in the form of:
- rent and mortgage payments
- food and clothing
- utility payments
- vehicle repairs and car payments -- and a variety of other areas if they are a critical need to that Veteran.


Latest News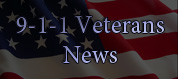 Stay tuned for future event announcements.

SEE US ON FACEBOOK
CLICK ICONS

FOLLOW US ON TWITTER