Helping Our Veterans
9-1-1 Veterans is a small non-profit organization dedicated to assisting Long Island's veterans.
We provide emergency financial assistance to those who have served in - or are still serving in - the finest military in the world.
Our current emphasis has not only been on those service men and women who participated in the global war on terrorism, but all military veterans from all eras.
The transition period from military to civilian is a critical time psychologically and financially. Some are going through the lengthy process of applying for a service-connected disability or have fallen on hard times and have no other means of support.
9-1-1 Veterans supports the concept of communities taking ownership of "their veterans" by providing any needed support. We have no paid employees which has, to date, allowed us to give nearly 100% of donated funds to this worthy cause.
Our Major Sponsor
Thanks to NBTY for their generous donations. Because of their funding, the majority of your donations go directly to Veterans in need here on Long Island.
What We Do
We have assisted our current and former returning Veterans of all eras with emergency financial assistance in the form of:
- rent and mortgage payments
- food and clothing
- utility payments
- vehicle repairs and car payments -- and a variety of other areas if they are a critical need to that Veteran.


Latest News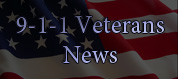 04/01/2012
Today NY State Senator Lee Zeldin announced the PFC Joseph Dwyer Program. This program will be put into place in four counties to start, Suffolk being one, to help better serve our returning service members. We would like to thank Senator Zeldin for fighting for our service members
Read more